Have you been living under a burqa? Well, all of us outside your Shabbat lamp are wondering if you're actually an evil scientist who found a clever way to disguise the full body burns received while completing your nuclear fission bomb. Also, we're all talking about a 19-year-old prima donna… no wait, I mean pre-Madonna named Justin Bieber who was arrested in Florida for driving under the influence of alcohol, marijuana, and prescription drugs.
Whoa, hold on over there. Prescription drugs? I mean, if this kid has alcohol and marijuana, what kind of prescription drug could he possibly take that would be more than that combination? I mean what kind of idiot –
Oh, that. I didn't think about Viagra.
Anyway, you must be thinking to yourself, how Jewish can a drinker, drug user, drag racer, and arrest resistor be? Luckily for you, the staff at Jewbellish did extensive research to uncover the facts about this boy's heritage. Did we pull down his underpants to check? No ewww yuck you sick pervert, but we were still pretty invasive, if you know what we mean.
– For years he posted music videos of himself on YouTube for free! – minus-10 points. Seriously? For free?
– Today, he makes millions of dollars from the YouTube hits alone – 3 points for being ahead of the market
– His manager is a Jew whose parents are a dentist and an orthodontist – 5 wonderful Nachas points for the Mishpuche, minus-2 because what kind of Jewish dentist parent lets their son become a "talent manager?"

– He says Shema before each show – 10 big points
– He follows up on Shema with what sounds like "stung stung stung quack quack quack soup" – minus-5 but only because he probably doesn't know which statement is gibberish
– He performed "Someday at Christmas" for Barack and Michelle Obama at the White House – 1 point because on the one hand it's a Christmas song, BUT ON THE OTHER IT'S THE PRESIDENT!
– He released a 3D part biopic, part concert titled "Never say never" which earned more than 30 million dollars over the weekend – 2 points for Bieber fever
– In 2011, he was ranked #2 on Forbes' best paid celebrities under 30 list – 5 uber-Jewish points
– He has more than 48 million followers on twitter – minus-5 points because even Moses didn't have that many followers
– He once vomited dairy on stage mid concert – 3 points because he actually did it in order to immediately eat meat
– He dated Selena Gomez on and off for several years – minus-7 points for dating a Shikse
TOTAL JEWBELLISH SCORE FOR JUSTIN BIEBER: 2 POINTS

By Perry Prokopenko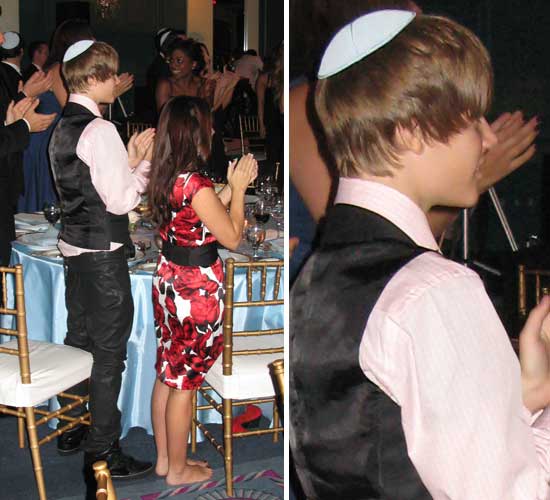 Related: How Jewish is David Arquette?
Related: How Jewish is the royal baby?
How Jew are YOU? GET TESTED. DOWNLOAD OUR APP FOR FREE >>