What? you don't know who David Arquette is?
He's the guy who was married to Courtney Cox. Remember Courtney Cox Arquette? No? Does this toggle your memory?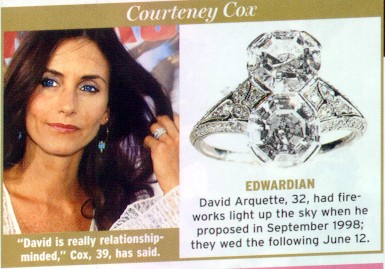 Excellent. Now that we've established who he is, let's find out how Jewish he is.
– His Dad was a Christian who converted to Islam – minus-10 points
– His mother was a Jew – 5 points
– He married a Gentile – minus-10 points
– The Gentile was Courtney Cox – 5 points
– He survived multiple stabbings as Deputy Dewey Riley in the Scream series – 4 points for Jewish survival instincts
– He won the WCW's world heavyweight championship with a signature move called the "worm" – minus-7 for wrestling, 2 points for the name of his signature move
– Jennifer Aniston is his daughter's godmother – 6 points for the kvelling
– His ex-wife is a shikse, but was a nice Jewish girl in "Friends" – 1 point for teaching her about bagels and cream cheese
– He had a Bar Mitzvah at the western wall – Only 6 points because he was 28 years too late
– He just ordered his own pair of Tefillin and took the following photo with them – 1 point because he forgot to put them on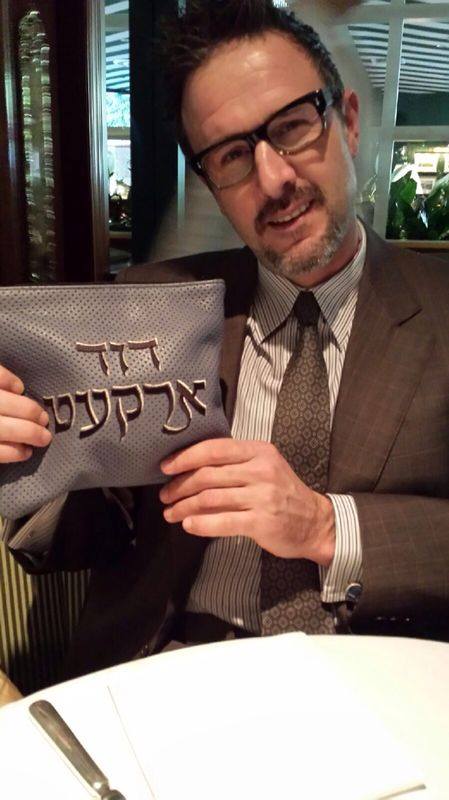 TOTAL JEWBELLISH SCORE FOR DAVID ARQUETTE: 3 POINTS
By Perry Prokopenko
Photo Credit: Judaica Creations
Related: How Jewish is the royal baby?
How Jew are YOU? GET TESTED. DOWNLOAD OUR APP FOR FREE >>