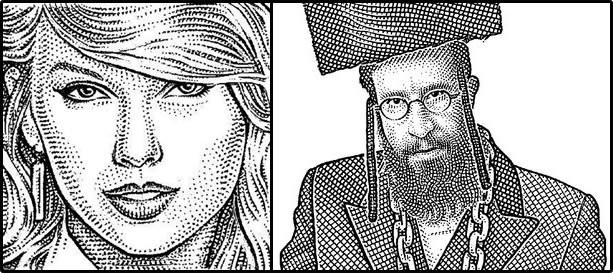 The Wall Street Journal broke the big story today that will make all LoopHoler Rebbe followers very excited. The gang that put together Talk Yiddish To Me is currently in production of a 'sequel.'
Read the story on the cover of Friday's paper or
READ WSJ ARTICLE HERE >>
SWIFT UPDATE – BLOG HERE >>
Don't miss the video! Follow Jewbellish: Facebook | Youtube | Twitter | Instagram
IMPORTANT NOTE:
– One is not permitted to throw out an image of the holy LoopHoler Rebbe. One must cut out His image and bury it before throwing out the WSJ.
– The punishment, for accidentally throwing out the paper without cutting out His image, is getting stoned. (Not the Iranian way.)
– The LoopHoler Rebbe, however, allows you to draw a new nose [in black ink] on His image, in order to throw it out. That visual nasal adjustment renders the image to the category of "some other Jew" and not the holy LoopHoler. Thereby being permissible to trash.
– If one is "too lazy" to recycle the WSJ, the LoopHoler allows you to accidently spill coffee on the paper and then trash it. The spill places the recyclable paper into the trash category.