The Hitler Pot may sound like a 'killer joint', but it's actually the nickname of a new tea-pot being sold at JCPenney. As you can see from the photo below, it is quite obvious that this anti-Semite bastard has boiled over onto the shelves this retailer that tried to scare away Jewish customers once already by removing the term 'sale'. Is there an anti-Jewish conspiracy or is this all in some old ladies head with too much time on her hands? Read the article from ABC NEWS (below) and decide for yourself: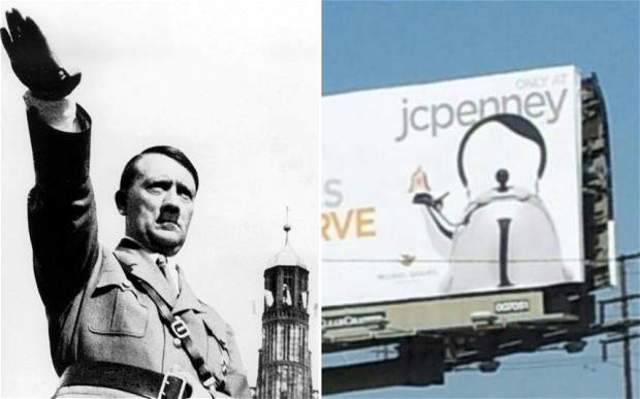 Poor JC Penney just can't catch a break.
This time, some are accusing it of using Adolf Hitler's image to boost sales.
Two weeks after a consumer investigation found some Penney's stores placing new higher priced stickers on merchandise, then having a sale on the new higher prices, the troubled chain is now the subject of controversy again.
But the store is now in hot water for putting up billboards showing a teapot that resembles Hitler.
Was it Accidental or Deliberate?
The billboard is actually for the new Michael Graves teapot at Penneys.
It was supposed to be a proud moment, because Penney's has taken the popular Graves line that was sold at Target for the past 10 years.
But instead, the rollout has been overshadowed by this image controversy.
At least one large billboard in Los Angeles shows a teapot that resembles the Fuhrer.
If you squint your eyes, so the image becomes blurry and appears to have Hitler's hair and mustache.  The website Gawker shows the similarity point by point.
Not only that, but it is giving a Nazi salute.  Or is it?  Penney's has not yet commented on whether this is just an accident, or was done on purpose to generate buzz…sort of like Kmart's "ship my pants" and "big gas" ads.
What do you think?
As always, don't waste your money.